Ways you can help
Just You
Make a donation or a regular by visiting our Local giving page
Challenge yourself!
Set yourself a challenge and invite your friends, family and colleagues to sponsor you! If running is your thing then you can sign up to take part in a national or local run and raise funds on line with Localgiving.com.
Local runs include:
Cancer Research UK London Winter Run
If you are up for something more adventurous then take a look at Skyline events and you will find opportunities to skydive, cycle to Paris and even trek the Sahara!
In the Community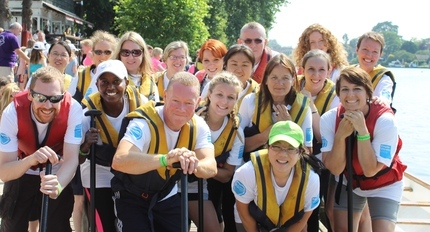 Kingston University's dragon boat team, 'Study As She Goes' raised funds for KCN's Young Carers' project. They also held a fundraising wine tasting evening at Dorich House, that proved a great sucess with both carers and public.
In the work place
There are lots of ways local businesses can support us including:
Making us your Charity of the Year
Charity Partnerships

Fundraising Events

Sponsorship

Matched funding for fundraising and volunteer hours
Walton based Rochills Estate Agent entered a team into the hotly contested Kingston Rotary Club's 2013 Dragon Boat Race and came a creditable 7th out of 48 teams. Most excitingly for KCN they raised money for our Young Carers' Project.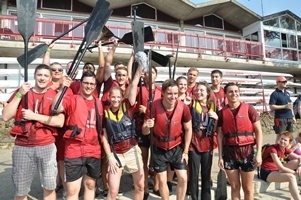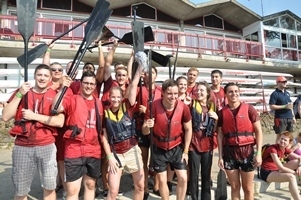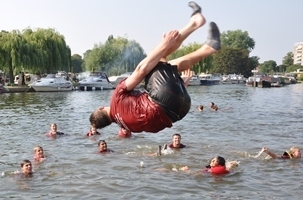 Co-director Marcel Roccia said the race "provided the perfect opportunity to raise funds for KCN's Young Carers' Project and had the added business benefit of providing a great team building event for our staff." Our thanks go to Marcel and his team.
We can give you ideas and support your fundraising. Please contact us to talk for more information about how we can work together.
Trusts and Foundations
Grants from trusts and foundations are a vital source of support for us. Their support helps us to continue to provide vital services for local carers as well as developing new services.
For us to meet the challenges faced by carers we hope to foster new relationships with trusts and foundations in the coming years and continue to nurture relationships we existing funders.
For more information about supporting us please email fundraiser@kingstoncarers.org.uk or contact us